Carer's forklift on air on Bloomberg's 'World's Greatest TV Show' feature
'World's Greatest TV Show', the historic Bloomberg TV program, reaches the Italian headquarters in Ravenna for a report entirely dedicated to Carer.
An italian engineering excellence, a boundless and always competitive alternative to thermal-powered solutions, 40 years of expertise and a deep-rooted culture of innovation: this is the portrait emerging from the 'World's Greatest TV Show' feature entirely dedicated to Carer, soon to be released on the Bloomberg TV network. The cameras of the legendary American broadcaster reached the company headquarters in Ravenna, highlighting the pioneering role of Carer, which has been penetrating the global material handling market since 1976, with ambitious full-electric solutions.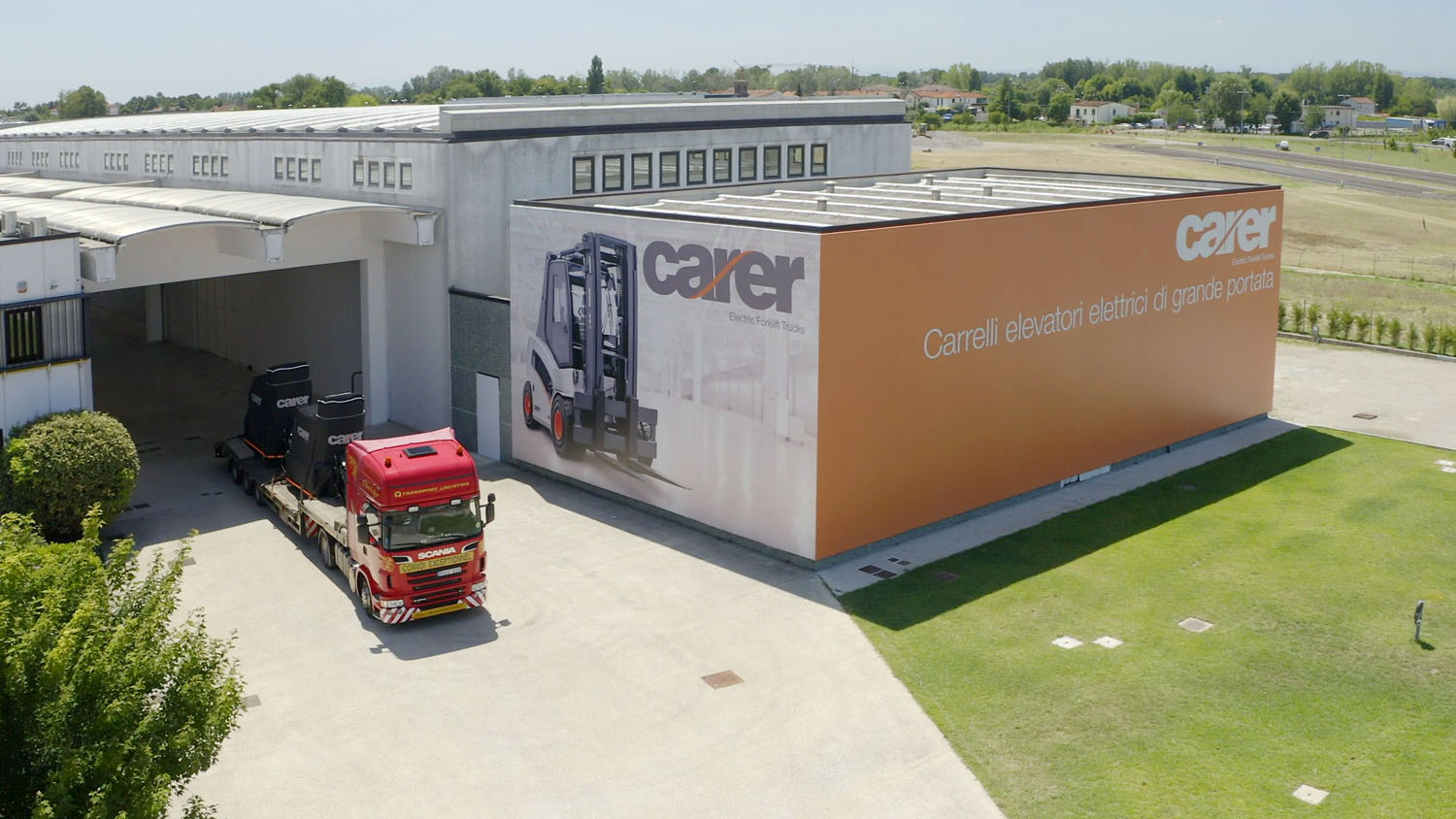 'World's Greatest TV Show' also put a spotlight on the corporate leadership through an engaging interview with Luca Spreafico, Vice President and owner of Carer. His first statement to the microphone of the show is programmatic.
"We are the only company in the world that is able to manufacture high-capacity electric forklifts up to 66.000 pounds and replace in all the different kind of application the diesel truck giving the best performance and the longest battery autonomy. In few words, we are the real and unique alternative to the diesel machines."
Cost control, safety and efficiency for the driver, as well as a vertical reduction of the carbon footprint are just some of the elements that attracted the interest of the prestigious TV show, granting Carer an important showcase of communication and visibility. If you are interested in the report and the full interview with Luca Spreafico, you can find it below in the page.
The 'World's Greatest TV Show'
Now in its 16th year and produced by How 2 Media Production, 'World's Greatest Tv Show' is an institution in the US television scenario. The show is a brilliant example of edutainment, a crasis of 'education" and "entertainment': a media container capable of entertaining the viewer with an always relevant informative content. Thought specific focuses and more in-depth reports, the show gives space to companies and organizations of all sizes, including of course the most famous and commonly appreciated brands, with the aim of helping the audience understand the products and services that accompany them in their daily consumption. The attention of such a beloved show is a source of great pride for Carer, making the company even more focused on its strategic goals.
Tags: Electric forklift trucks, Bloomberg TV, World's Greatest TV Show, Ravenna, Italy, Headquarters, Luca Spreafico, innovation