Carer Forklift's A 55-60-70 SC: the launch of the new ultra-compact line
Carer, the Italian leading manufacturer of electric forklifts, offers a line of light and ultra-compact vehicles for indoor applications. A significant innovation, making electric forklifts suitable for the most common warehouse applications.
The new Carer Forklift's A 55-60-70 SC line is officially a reality. This is a great achievement for the Italian manufacturer, which can now offer extremely compact trucks. In short, the technical management has identified the 60 and 70 q capacity range as strategic: engineering a full electric, high-performance vehicle in this size range opens up to indoor applications all the advantages of zero emissions and noise, in addition to the cutting-edge equipment typical of Carer Forklift.
A 55 and A 60 SC are developed on the same monocoque chassis, which has been slightly lengthened in the case of A 70 SC for structural needs. Dimensions of 1320 x 2810 mm make the members of the line authentic top performers in maneuverability; the must-have alternative to the thermic power supplies for companies wishing to innovate their fleet.


The lead-acid battery-powered electric motor delivers 96 v through 640 and 688 Ah batteries: autonomous and at the same time compact and innovative, as a ready to ion module is already provided in the line's chassis for a possible conversion to lithium. The main development goal was to achieve not only dimensions unmatched on the market but also record maneuverability. The 2500 mm turning radius makes the A 55-60-70 SC line trucks even more maneuverable and ready for the most delicate applications, where a few inches can make all the difference. Cushion tires, ideal to ensure top stability, maximize maneuverability. The new Carer Forklift's line embraces modern handling needs in full ergonomics and safety for the driver. The traditional 150 mm from the ground mast opens a wide horizon of visibility for the operator, thanks to specific redesign work.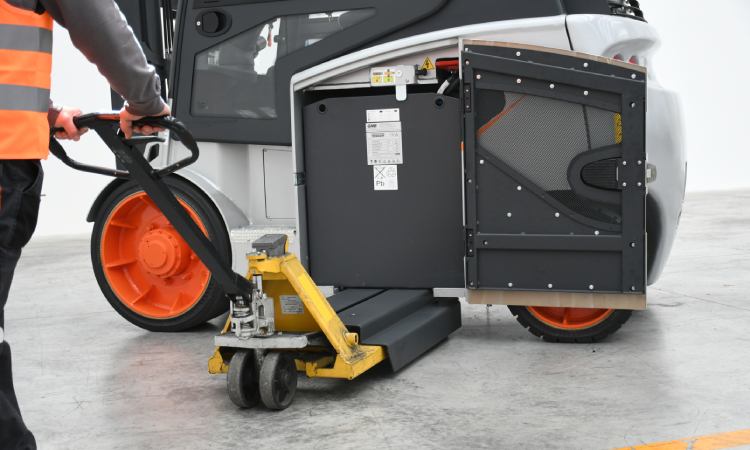 Battery extraction is located at the bottom of the forklift and can be done with a simple pallet truck. Equipment includes a high-end seat, swing cylinders on the top of the cab and a rear one with counterweight that secures the center of gravity. Optional is also the installation of a dual pedal with center brake pedal to meet the needs of multiple markets and compartments.
Would you like to have more information about the A 55-60-70 SC line? Please write to info@carerforklift.com or contact 0545.1938010. We will be glad to answer your requests.
Tags: Compact forklift, Electric forklift trucks, Carer electric forklifts, Linea ASC, Carer A55 SC, Carer A60 SC, Carer A 70 SC