Carer Forklift at Logimat 2023
Carer, leader in the production of electric forklifts, will attend the new edition of LogiMAT: an open window on the intralogistics and material handling industry.
From April 25 to 27, 2023, Carer Forklift - a leading manufacturer of electric forklifts - will be a major player at LogiMAT 2023, the prestigious intralogistics fair that, year after year, represents an extraordinary business, networking and exchange opportunity for insiders.
In Stuttgart, Germany, LogiMAT will provide three days entirely dedicated to logistics, intralogistics and logistics 4.0, a great opportunity for Carer Forklift and an exepctional way for the vast range of the line to achieve visibilty. Attending LogiMAT as an exhibitor means giving prestige to an offer capable of providing electric forklifts for every need and application, with extraordinary performance and capacities up to 20 t. Electrification of material handling is an irreversible trend, and LogiMAT 2023 is the best context to give space to a philosophy that creates the condition for innovation through attention to customer needs, research and development, and out-of-the-box thinking.
LogiMAT, an observatory that continuously looks at innovation
For twenty-one years - the first edition was held in 2002 - LogiMAT has not only been an opportunity to establish contacts and promote business offers: it is also a an observatory on the sector, constantly monitoring its evolution, made faster and faster by new technologies that will redesigning the world of handling as we know it today.
Automation, big data, safety and sustainability will be key themes at the event, and Carer Forklift aims to present its cutting-edge technology, leading the revolution from a pioneering and therefore privileged position.
The appointment is in Hall 9, stand B61: Carer has been attending LogiMAT since the first edition; it cannot miss this one, which is set up as a test bed to accurately feel the pulse of the industry.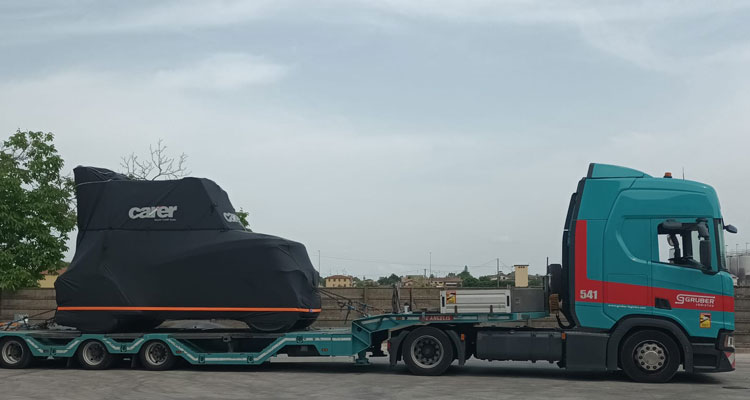 Are you interested in following the world of Carer Forklift closely by receiving constant updates on commercial offerings, R&D, network and new product development? Please subscribe our monthly newsletter by clicking on this link. And if you aren't already doing so, follow our Linkedin and Facebook page for real-time news!
Tags: electric forklifts, fair, Carer electric forklifts, international trade, LogiMAT 2022, Logimat 2023