The excellence of Carer electric forklift trucks in the wood industry
The choice of Italy's leading manufacturer of wood panels to entrust its material handling to Carer electric forklift trucks is another major success for the Ravenna-based company.
Carer's constant commitment to providing its customers with reliable, high performance machines at highly competitive prices has achieved a new and major success with its electric forklift trucks being chosen by Italy's leading manufacturer of MDF and chipboard panels, a key player in the office furniture sector, which has several plants in Italy and abroad.
The customer, who expressed the need to replace the internal combustion machines in its fleet with high-autonomy electric forklift trucks, chose to purchase the Carer A90X and F90HD². These machines are in fact equipped with a wide plate, sideshift and fork positioner and twin tyres, ideal for handling wood panels, which can reach a width of 5.6 m, up to a lifting height of about 5.5 m.
These Carer electric forklift trucks are also able to mount a mechanical plate up to 4 metres wide, which allows the panels to be handled without flexing.
Their strength lies in their performance: their speed of 20 km/h and ability to handle materials in extremely tight spaces makes them stand out from competitors on the market. All this is combined with high operating autonomy and considerable savings on running costs, which makes them ideal to replace diesel machines of the same capacity. Choosing the electric alternative in fact contributes to reducing the impact of the work on the environment, as well as significantly saving energy: the battery of the Carer forklift trucks (with 96 V and 1680 Ah) guarantees high autonomy, while the possibility of side extraction minimises downtime through simple and fast battery replacement.
From a technical point of view, the A90X is a revolutionary electric forklift truck, specifically designed for handling materials in restricted areas with a load capacity of up to 9 tonnes. Its two powerful AC traction motors, installed at the front of the machine, guarantee speeds of up to 20 km/h and lifting speeds between 0.38 and 0.50 m/sec.
Equipped with super-elastic tyres, it is the maximum expression of operator comfort, visibility and safety: the 5.7" multifunctional display allows the operator to control all the truck's settings and parameters (speed, direction, charge status, consumption, voltage, hours worked); safety is ensured by wide front visibility, rear camera and an automatic slow-down system when steering.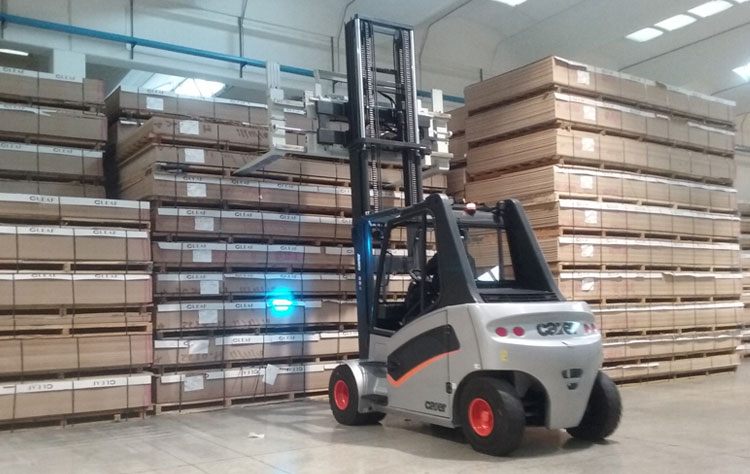 Similarly, the F90HD² electric forklifts stand out for their extreme compactness and high performance, combined with high operating autonomy: their low consumption guarantees a saving of up to 90% in energy costs and a significant reduction in maintenance costs. Equipped with a single, powerful lifting motor that is highly efficient and reliable thanks to the very high capacity of the battery, they demonstrate excellent handling performance in the tightest of spaces.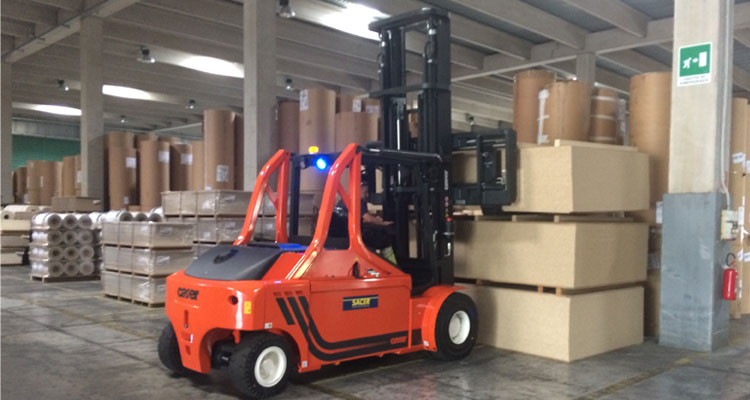 For more information on the range of Carer electric forklifts, contact us by writing to info@carerforklift.com or by calling +39 0545.1938010.
Tags: Environment, Safety, Batteries, Electric forklift trucks, material handling, battery replacement, High Performance, speed , visibility , high autonomy, operator comfort, highly competitive prices, chipboard panels, wide plate, sideshift and fork positioner , twin tyres, handling wood panels, lifting height , handle materials in extremely tight spaces, electric alternative, saving energy, load capacity , powerful AC traction motors, lifting speeds, super-elastic tyres, multifunctional display, truck's settings, wide front visibility, rear camera, automatic slow-down system